Portable Toilets for Special Events in Tulsa & Surrounding Areas Including Stillwater & Tahlequah, OK

Are you planning an event where the nearest toilet isn't for miles away? Having portable toilets brought to the location is an obvious and practical solution for this situation. You can enjoy being out in the rural areas of our beautiful state for hours with no concerns of finding a restroom. No matter what special event you have planned, Aimright has your portable restroom needs handled.
Here are some of the events we cater to:
Weddings: Whether your nuptials are taking place on the family farm or off the beaten path, our portable toilets are an ideal addition for your perfect wedding. You won't have to let the lack of facilities prevent you from choosing your desired venue. 
Parties: If you're hosting an outdoor party or get-together, consider hiring Aimright to deliver portable toilets. And don't worry, this is one mess you won't have to clean up. We will deliver, set up, and remove the toilets in an orderly and timely fashion. 
Charity events: Our portable toilets are a great option if you're putting together an outdoor charity event. Our toilets are clean and simple to use, so even your most impeccable guest can go in comfort and peace of mind. 
Festivals: Portable toilets are essential to any festival, and Aimright delivers. We will place as many portable toilets as needed and in multiple locations on the property, so festival-goers can conveniently use the bathroom without having to search. 
Sporting events: If you're planning a soccer or football game, you should consider having portable toilets delivered. Aimright's portable toilets are great for sporting events, giving everyone on or off the field a nice place to use the restroom. 
Fundraisers: Whether your fundraiser is a silent auction or a casual barbeque, we'll make getting facilities for your fundraiser easy. Just provide us with the expected amount of guests, and we'll deliver as many toilets as needed and at a reasonable price. 
Marathons & 5K's: Aimright's portable toilets are perfect for marathons or other running events. We will deliver and set up as many toilets as needed to ensure that both the spectators and the participants are comfortable and their needs are satisfied.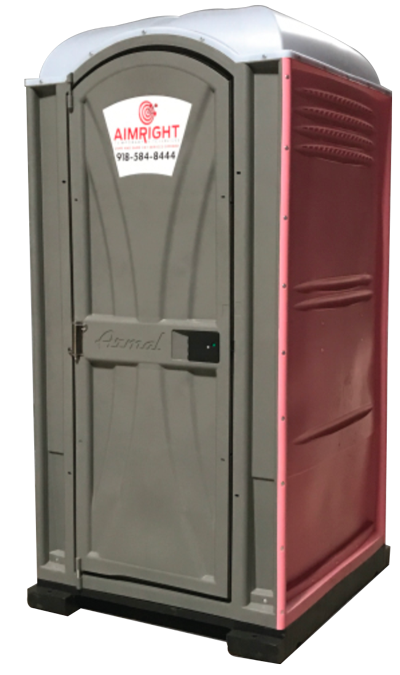 Call Aimright for Special Events
Contact Aimright at 918-233-3575 for free estimates or service scheduling. We will gladly answer any questions you may have.