Portable Toilets in Tahlequah, OK
Planning an event and need to add some portable toilets or temporary fencing for your construction site, industrial location, agricultural area, or government project in Tahlequah, OK? When you do, Aimright is your trusted, locally-owned provider in Tahlequah, OK for portable toilet installations. We can provide you with proper onsite sanitation, which is an important and necessary part of any event or project.
Our customers can attest to our quality products, great service, and reliability. You need us when you are looking for temporary site services like portable toilets, fencing, and storage containers. Call us at 918-233-3575 for a no-obligation estimate, or click here to reserve our services ASAP in Tahlequah.
The Benefits of Portable Toilets to Improve the Environment
Portable toilets have so many beneficial sides that help to improve the environment in many ways and give you a better healthy ecosystem. Those ways are: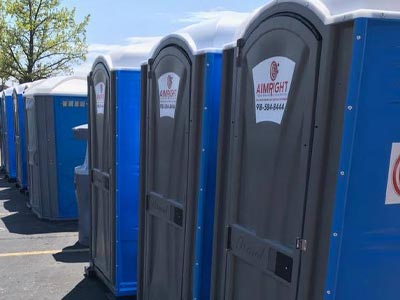 It improves public health.
Portable toilets help to conserve water.
Reduce insect problems with porta-potties.
It reduces the spread of disease among wildlife.
Protect vegetation from toxic waste!
Provide for the proper disposal of waste.
Portable toilets help to reduce waste on hands and clothing.
They work overtime to control odors.
Contact Aimright Temporary Site Services for Portable Toilets in Tahlequah
If you are located in Tahlequah, OK, please feel free to give us a call at 918-233-3575 or click here for a free estimate. We guarantee to provide you with the best quality customer service and products for all of your portable toilet needs. Contact us today to learn more and let us help to make your event a success in Tahlequah, Oklahoma.