Temporary Fencing & Portable Toilets throughout Avant, OK
Whenever you're hosting an event outdoors or attending an event or a festival, all you need is a portable toilet and temporary equipment like temporary fences and storage containers to finish the setup and save time or prevent damage.
Aimright Temporary Site Services is a family-owned and operated company serving dedicatedly throughout the Greater Tulsa, Avant, Stillwater, Tahlequah, and Oklahoma areas. Our crews are ready to serve you 24/7/365 and offer free estimates.
Whenever you need a premium quality service at an affordable price, just give Aimright a call at 918-233-3575 or contact us to speak with one of our service experts.
The Advantages of Using Portable Toilets
Whether you are arranging an event or working outdoors, a nearby and clean toilet is all you need to provide for the guests or the staff, and we are your finest solution because:
Budget Friendly: Portable toilets are not only simple to set up but also come at an affordable price.
Cleanliness: We will give you toilets that are always clean and safe.
Privacy Protection: Safer and private toilets are needed at a festival or event. A portable toilet is the best way to avoid trouble and troublesome situations at an event.
Satisfaction among Employees: Since portable bathrooms are so easy to use, employees don't have to leave their desks as often to use them. This makes them more productive.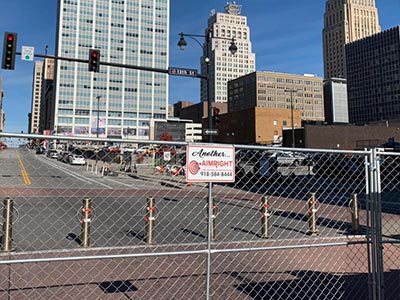 Advantages of Temporary Fencing & Storage Containers
You can get the best security by using temporary fencing and by using storage containers that will allow you to safely carry goods and are designed to protect your guests from natural calamities.
Crowd Control: Temporary fencing is your best option if you want an event to be safe and free of problems. On the other hand, storage containers give your belongings superior protection because they are made of top-quality steel, which is durable, so your goods may not get damaged while shifting the load.
Restricting vandalism: A temporary fence protects you from intruders entering the area, and with storage containers, you can prevent thieves from stealing your goods.
Affordable: Both storage containers and temporary fences are efficient ways to save money and time, in addition to having a long duration.
Rely on Aimright throughout Avant
Family-owned and operated business
Free Estimates
24/7 Emergency Service
Premium quality work at an affordable price
Clean & Hygiene sanitation
Experienced and professional experts
For Trusted Sanitation Partners, Contact Aimright
Our skilled team works hard every day to give our customers professional, reliable, and first-class service. For any emergencies, call us at 918-233-3575 or contact us online.