Portable Toilets in Broken Arrow, OK
From job sites to large venues, Aimright Temporary Site Services has the equipment, high-quality sanitation standards, and prompt delivery service to meet all your portable restroom and toilet needs on a schedule that suits you in Broken Arrow, OK.
Our locally owned team can provide you with proper onsite sanitation, which is an important and necessary part of any event or project. We have emergency portable toilet facilities for construction, government portable toilets, industrial portable toilets, VIP usage, portable toilets for agricultural purposes, and temporary fencing facilities. Call us at 918-233-3575 today to learn more about our services in Broken Arrow, which include free estimates!
The Advantages of Having Portable Toilets At Your Event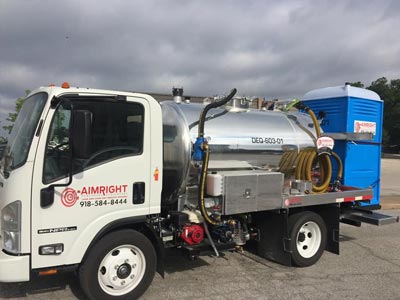 Convenience: Setting up enough portable toilets during outdoor events allows guests to relieve themselves without having to spend time walking far. That's why portable toilets are very convenient to use.
Cost-Effective: Rather than constructing extra restrooms for outdoor events, it is more practical to rent portable toilets instead. It also helps to reduce many of your costs.
Sanitary: Portable toilet providers handle the tedious toilet cleanup afterward, ensuring proper waste disposal and offering onsite sanitation, which is an important and necessary part of the process.
Ease of Use: There are many options to fit all your guests' needs. Handicap-accessible portable toilets are designed with easy access features such as ramps and railings.
Why Choose Aimright for Your Event in Broken Arrow, OK?
Aimright is dynamic in the field of temporary site services. Our company has a group of experts dedicated to providing satisfactory service for all customers, including those in Broken Arrow. We will analyze the demand and the environment of our client's property and install portable toilets to fulfill their needs. If you want to learn more about our services and products, call us at 918-233-3575 or click here to book our services ASAP for your event in Broken Arrow, Oklahoma.