Portable Toilet & Temporary Fencing in Claremore
Portable toilets and temporary fencing are essential things in modern times! Whether you need a portable toilet or temporary fencing for special events, construction sites, government projects, or agricultural sites, Aimright understands all your needs and requirements and can provide temporary bathroom solutions to homeowners and business owners in Claremore, Oklahoma.
When you need portable toilets and a temporary fencing facility in Claremore, you can count on Aimrights for the job. Aimright Temporary Site Services has portable toilets and temporary site goods to meet your demands, no matter the occasion or location. Our goal is to give convenient access to a bathroom for folks who spend most of their time outside and temporary fencing for security. Contact us online or call us at 918-233-3575 when you need our services in Claremore!
Services Provided by Aimright in Claremore, Oklahoma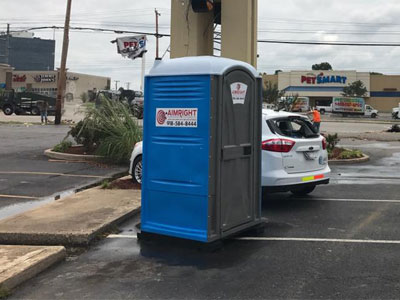 Some of the most popular services we provide for customers in Claremore include:
Portable Toilet- Our portable toilets are excellent. From installing to removing, we are capable of handling all the jobs.
Temporary Fencing- Temporary Fencing is of the best kind when we are the ones to provide it. You can go through your event simply with our temporary fencing.
Storage Box- Aimright delivers storage containers to your location, allowing you to keep your possessions safely and securely. Our Pak-All containers are top-of-the-line.
Benefits of Temporary Fencing by Aimright Temporary Site Services
Here are some fantastic benefits of temporary fencing-
Securing sites- On construction sites, temporary barriers are frequently employed. These fences assist in keeping the locations safe and can also be used to prohibit access. This is critical since you might be held accountable if someone is hurt on the job. You will be able to keep the place far more secure and safe by erecting a temporary fence around it.
Limited vandalism- On new building sites, destruction is expected. In many cases, a minor deterrent is all that is required to prevent this from occurring. You may make it more difficult for potential vandals to access the area by erecting a temporary barrier. This might help to lessen the risk of vandalism on your job site.
Crowd Control- It will be critical to guarantee that you can adequately regulate crowds during specific occasions. Crowd control may ensure that your events run well while also providing some safety for your attendees.
Safeguarding Children- Temporary fencing is not just for construction sites. They may also be utilized to keep youngsters safe in the home. If you have a pool, patio, or other potentially dangerous location, you'll want to be sure you have the proper fence in place to keep youngsters out.
Cost-effective- Temporary fencing is a cost-effective option rather than a permanent one, and a temporary one is more convenient.
Choose Us for Your Temporary Fencing & Bathroom Needs in Claremore
Among the many reasons to choose Aimright for temporary bathroom & fencing services in Claremore, OK, these stand out:
Dedicated to providing satisfactory service
Durable & reliable service
Efficient & timely
Free estimates
Licensed & insured
To learn more about our services in Claremore, give us a call at 918-233-3575 or click here to schedule our services ASAP.