Portable Toilets & Temporary Site Services in Stillwater

Whether someone manages a small business or is hosting an event, most people appreciate the convenience and service that portable toilets provide. In Stillwater, Aimright Temporary Site Services has the portable toilets and temporary site supplies you need. Our goal is to enable people who spend the majority of their time outside with easy access to a toilet. To learn more about us, call 918-233-3575 at any time.
Aimright Provides the Best Portable Toilets in Stillwater, OK
We at Aimright Temporary Site Services believe in providing a hassle-free portable toilet rental experience to our customers. We'll take care of everything! In addition to exceptional client service in Stillwater, we provide the following services: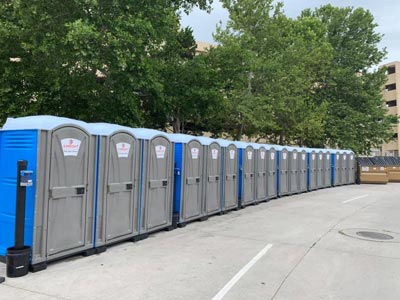 Clean Toilets: Sanitation and cleanliness are very important to Aimright. Before being delivered to your location, our portable toilets are in outstanding condition and have been completely cleaned. Your comfort is our main priority, and Aimright ensures that each unit purchased meets our stringent cleanliness requirements.
Delivery and Clean Up: When you order toilets from Aimright, you won't have to worry about installation or cleanup. We'll set up the portable toilets for your site or event in a timely and professional manner. We'll pump out the garbage and remove the portable toilets after your rental period is over.
Toilets for the Handicapped: Aimright also has handicapped portable toilets if some of your guests or employees require a more accessible restroom. Our disabled portable toilets are large enough to provide complete restroom access to persons who need wheelchairs or walkers.
Aimright Temporary Site Services can deliver portable toilets for any function and a variety of needs, including:
Rely on Us for Portable Toilets & Temporary Site Products in Stillwater
For customers located in Stillwater and its surrounding communities, feel free to give us a call at 918-233-3575 or contact us online for a free estimate. We guarantee to provide you with the best quality customer service and products for all of your portable toilet needs.